Selwyn Klein (Sub-A 1953) now living in Bat Chefer, Israel
---
Click anywhere on the photo to return to the previous menu.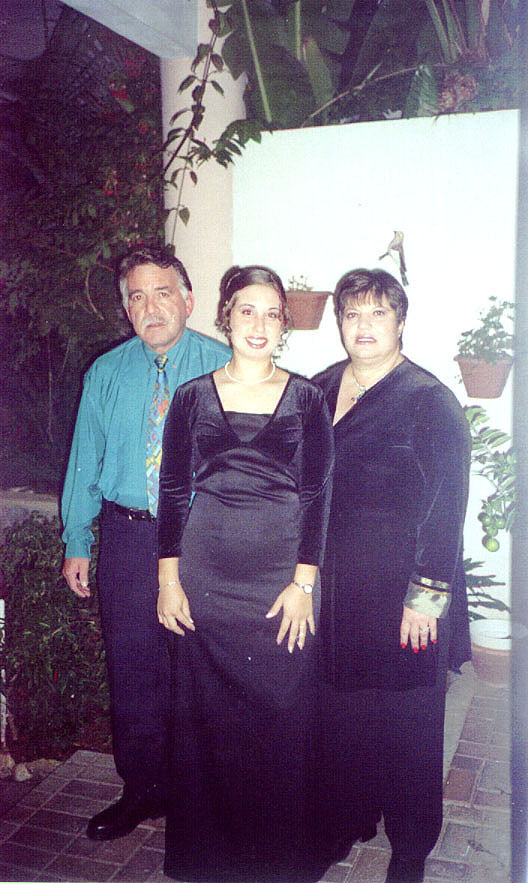 Selwyn Klein, pictured at home in Israel with daughter, Ilanit, and wife, Malka.
On 4th December 1964 I had completed my Senior Certificate Examinations at Camps Bay High School. I had been a pupil at the Camps Bay Schools during all my school years. In 1965 did compulsory army service in the South African Infantry, basic training at Oudtshoorn Military Base followed up by 6 months in Walvis Bay in South West Africa (Namibia today). I then studied Pharmacy at the Cape Technical College and qualified as a pharmacist in 1972. I worked in various retail pharmacy stores and did a spell of Industrial Pharmacy at Petersen's Manufacturing Chemists from October 1972 until September 1974. I had decided that the time had come for me to leave South Africa. I was totally opposed to the cruel apartheid regime that was very much in force at the time. The lack of democracy and the totalitarianism of a fascist South Africa had been the last straw, which catapulted me into making a decision to leave. I decided that Israel would be my country of choice.
I arrived in Israel on 13th October 1974 when the country was still recovering from the Yom Kippur War a year before. I landed up in Ashkelon where I worked at Barzilai Hospital for three years in the hospital pharmacy as a ward pharmacist. At the same time I learned Hebrew, as I had no alternative. Hardly anybody could speak English. Most of the citizens of Ashkelon were immigrants from North Africa, Iraq, and Yemen and of course the ex Soviet Union, Romania and a sprinkling of Bulgarians. I had more than my fair share of cultural shock trying to get used to this heterogeneous mass of strange people whose culture differences to my own was immensely striking. In 19th October 1977, I married Malka Tuitou of mixed Algerian and Tunisian parentage. I then had to learn sprinklings of Tunisian dialect Arabic and French mixtures because that was the way her folks communicated with each other. Even to this day I am far from knowledgeable in that salad of languages and Hebrew has remained my second language, of which I am now fluent.
In March 1979, I moved to Herzlia and began to work at Tel Hashomer Hospital where I was transferred. I did quite a lot of work in formulating Total Parenteral Nutrition for adults, children and prematures. In October 1985, I left Tel Hashomer Hospital and did a spell in Community Pharmacy (basically shopkeeping) which I found very boring. I returned to hospital pharmacy and worked at Beilinson Hospital in Petach Tikva in the Oncology Department. I did all the chemotherapy reconstitution. I stayed for a year there and then returned to Tel Hashomer Hospital after an oncologist friend of mine suggested that I introduce a cytotoxic reconstitution service for them there in the Oncology Dept run by Prof. Harold Brenner an ex Rhodesian. I spent the following seven years there until August 1994 when I left for Laniado Hospital in Netanya as Vice Chief Pharmacist. I have been there ever since practicing general pharmacy and running a drug information service for the medical staff. In October 1996, we left Herzlia for Bat Chefer, a new community settlement just within the Green Line about 500 metres from Tulkarem in the West Bank. Unfortunately, we have to put up with a lot of unrest just beyond our borders as this more intense Intifada saga unfolds, creating havoc and fear in its wake for all sides – Israeli as well as Arab, and this has been a major set back for the Peace Process. I have also done reserve duty in the Israeli Army, serving in the Medical Corps doing various patrol jobs in the territories and having become an officer. Towards the end of nearly 19 years of reserve duty, they discovered that I could be used as a pharmacist in the army clinic.
I have three daughters – Limor (20 years) who has completed her army service and is in limbo as to what to do with herself now, Ilanit (19 years), who is currently serving in the army on the Golan Heights and Tohar (10 years) in Grade 4 at school. All in all, I lead a very busy life. I do some gardening, surfing the net and writing on the peace process of which I am a strong believer despite the recent setbacks that we are having. When one lives in this country then hope for the future that it may be better for our children is always uppermost in our minds. We have had to take a lot of bombings lately and the odd stray bullet that comes into our settlement.
I hope you are not bored you with my résumé. If you have had the patience to read my thumbnail sketch of my life, I would be pleased to correspond with any old school friend and others from my childhood in South Africa.
Send e-mail to me at zachary AT 012 DOT net DOT il
I also have a modest web site at http://uk.geocities.com/shimon472002/My_page.html and a BLOG at http://shimonzk.blogspot.com/